Entrepreneur's Day
30.08.2019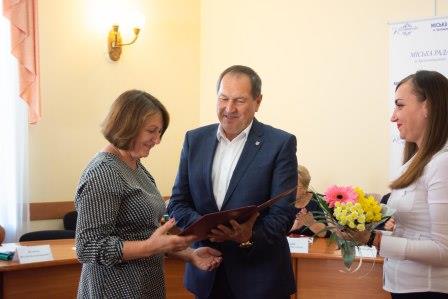 Company Starts with People
11.09.2019
On September 2-3, 2019, at PC "RPC Radiy" testing ground a Hand-Over Acceptance Testing was performed. The testing covered a wide range of Radiy products –  panels  6NPE, 7 NPE, 8 NPE, 9 NPE, НО-5, HZ-13, HZ-15, HK97-2, HK97-3, HK99-1, HK99-2, HZ-16, HZ-16Д, HZ-12, HZ-12D, РО-1, РО-7, cabinets  MD03Z21-3, 1MD01Z01-1, power supply boxes and pull boxes that were designed and manufactured for the SS South Ukraine NPP. These panels and cabinets used for connection of Fire Alarm Control and Indicating Equipment also contain control and indication elements for the external signals.
According to its type, the panels and cabinets perform the following functions:
switching of Fire Alarm Control and Indicating Equipment to power sources, sensors, annunciators, control elements and actuators of automatic fire alarm;
indication of the status for signals manual transfer to external devices/systems;
audible and optical indication of the incidents. 
The Hand-Over Acceptance Testing results proved the system is compliant with the current Ukrainian Nuclear Radiation Safety rules and standards, and Terms of Reference. The equipment will be installed at the Customer's site during replacement of the Automatic Fire Alarm at the SS South Ukraine NPP.